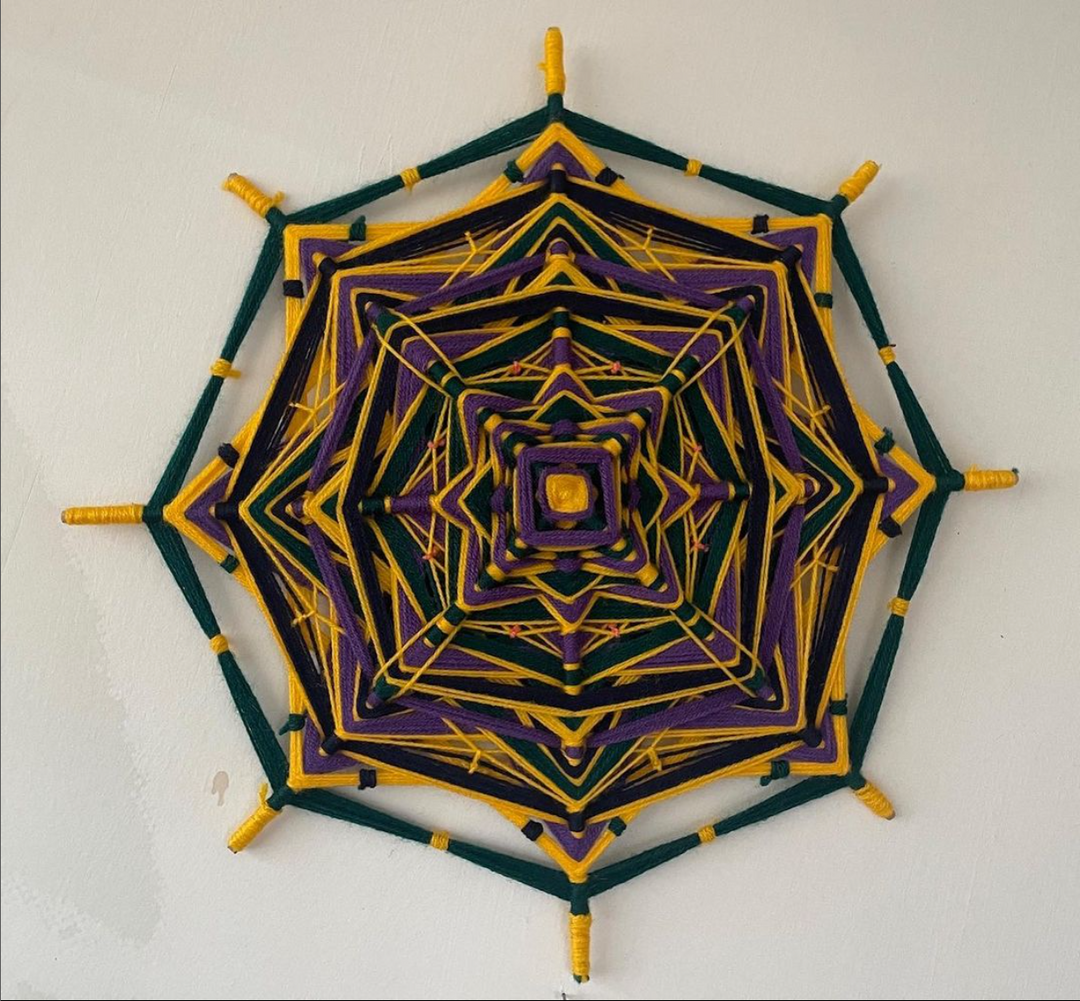 'Universal Loop In Time' 3D Mandala
---
Low stock - 1 item left

Inventory on the way
Free shipping from €50 in NL,
EU €100, UK €150, INT. €300
Radius 40cm
Elevate your decor with the mesmerizing charm of our 40 cm Handwoven Mandala, a masterful blend of contrasting colors, wool, and wooden sticks. This exquisite art piece is more than just a decoration; it's a statement of style and craftsmanship.
Contrasting Colors: The captivating play of contrasting colors within this mandala creates a visual symphony that instantly draws the eye. Vibrant hues and subtle shades harmonize to bring balance and depth to your living space.
Handwoven Excellence: Crafted with care and expertise, this mandala showcases the artistry of handweaving. Each strand of wool is carefully intertwined with wooden sticks to create a stunning pattern that radiates the dedication of skilled artisans.
40 cm Diameter: With a generous 40 cm radius, this mandala becomes the focal point of any room. Hang it on your wall, place it on a table, or use it as a centerpiece; its size makes it a versatile and impactful addition to your space.
Wooden Stick Detail: The inclusion of wooden sticks not only adds texture and depth but also introduces a touch of natural elegance. These sticks complement the wool's warmth and create a tactile dimension that sets this mandala apart.
Versatile Placement: The 40 cm Handwoven Mandala is equally at home in various settings. It can infuse your living room with a touch of artistry, enhance your meditation space, or even serve as a unique table centerpiece for special occasions.
Unique Craftsmanship: Each mandala is a unique creation, ensuring that you possess a one-of-a-kind piece of art that embodies the spirit of individuality.
Make a statement with our Handwoven Mandala, where contrasting colors and skilled craftsmanship come together to add a touch of elegance and depth to your surroundings. This 40 cm masterpiece is not just an accessory; it's a conversation starter and a source of daily inspiration.
Adorn your space with this remarkable handwoven mandala and experience the art of contrast that celebrates the beauty of handmade craftsmanship. Order yours today and let it transform your environment into a haven of creativity and style.
Shipping is calculated during check out.
Same day shipping
FREE SHIPPING from
- €50 in NL
- €100 in EU
- €150 in UK
- €300 International