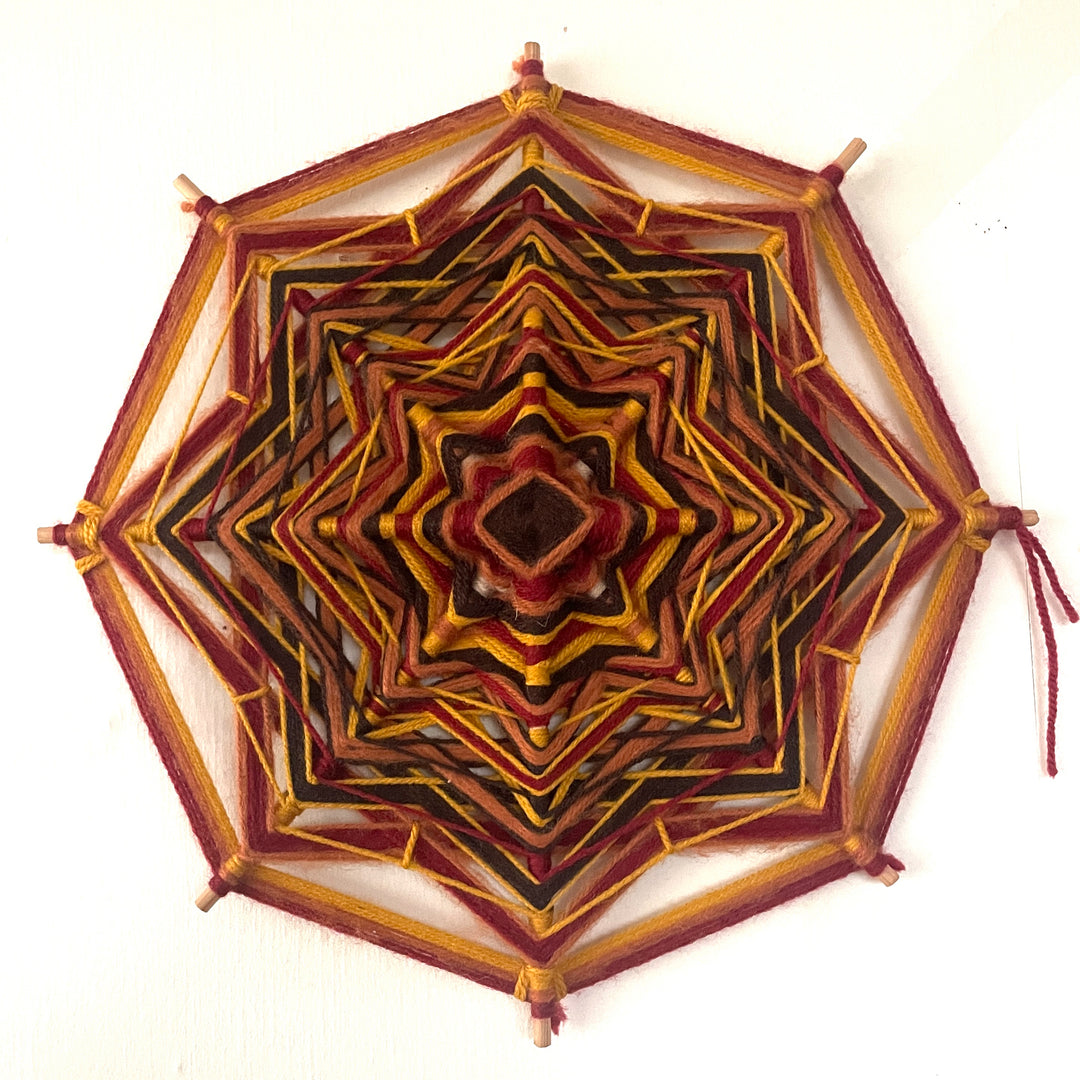 'The Fall' 3D Mandala
---
Low stock - 1 item left

Inventory on the way
Free shipping from €50 in NL,
EU €100, UK €150, INT. €300
Radius: 35cm
Handwoven 3d mandala
Embrace the enchanting allure of fall with our exquisite Handwoven Mandala, thoughtfully designed to capture the rich and warm hues of the autumn season. This tapestry is not just a decorative piece; it's a masterpiece that brings the spirit of fall into your home, filling your space with the cozy, rustic charm that autumn is known for.
Handcrafted Elegance: Each mandala is meticulously handwoven by skilled artisans who pour their heart and soul into creating this unique piece of art. Crafted with precision and care, it embodies the authenticity and craftsmanship that only handmade products can offer.
Rich Fall Palette: The color palette of this mandala reflects the stunning shades of fall. Deep oranges, earthy browns, fiery reds, and golden yellows come together to create a mesmerizing visual symphony that evokes the essence of the season. It's the perfect way to celebrate and embrace autumn in your home.
Versatile Decor: Our Handwoven Fall Season Mandala is incredibly versatile. Whether you hang it on your living room wall, drape it across your bed, or use it as a cozy picnic blanket, it instantly transforms your space into a cozy autumn retreat.
Quality Materials: Crafted from premium, durable materials, this mandala is designed to stand the test of time. You can trust its quality and know that it will serve as a beloved piece of decor for years to come.
Size Options: We offer a range of sizes to suit your specific needs. Choose from various dimensions to find the perfect fit for your space.
Easy Maintenance: Cleaning and maintaining your mandala is hassle-free. Simply follow the care instructions, and it will continue to radiate autumn's charm season after season.
Perfect Gift: Whether you're shopping for yourself or looking for a thoughtful gift for a loved one, our Handwoven Fall Season Mandala is an excellent choice. It's a unique and meaningful present that will be cherished by anyone who adores the beauty of fall.
Elevate your home decor with the warmth and beauty of autumn by adding our Handwoven Fall Season Mandala to your collection. Embrace the changing seasons with this timeless piece, and let it remind you of the crisp air, falling leaves, and the magic of fall.
Don't miss the chance to own a masterpiece that captures the essence of autumn. Order your Handwoven Fall Season Mandala today and experience the enchantment of fall in your own home.
Shipping is calculated during check out.
Same day shipping
FREE SHIPPING from
- €50 in NL
- €100 in EU
- €150 in UK
- €300 International