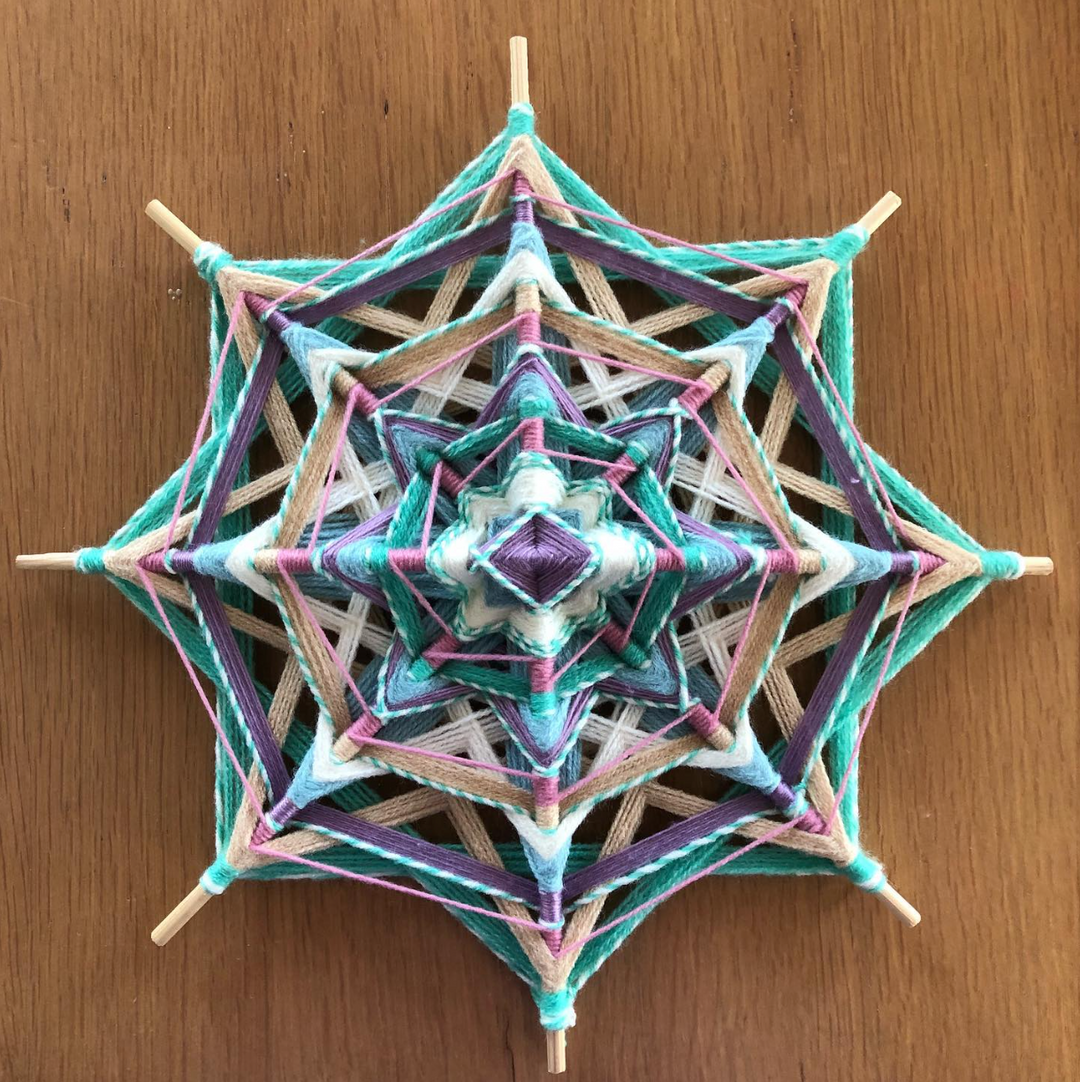 'Ananda' 3D Mandala
---
In stock, ready to ship

Inventory on the way
Free shipping from €50 in NL,
EU €100, UK €150, INT. €300
"Ananda" isn't just a piece of art; it's a captivating narrative woven into every intricate pattern, making it a symbol of serenity and complexity. Handcrafted with meticulous care, this handwoven mandala stands out for its exceptional use of light colors, intricate design, and a harmonious blend of wool and wooden sticks
Ethereal Lightness: "Ananda" captures the essence of serenity with its delicate and light color palette. Soft pastels and gentle hues create a tranquil aura, making it a stunning addition to any space seeking an infusion of calm and beauty.
Intricate Symmetry: This mandala's design transcends the ordinary. The intricate patterns that flow within it are an homage to the beauty of complexity. Each curve and line tells a story, inviting you to explore the details that lie within.
Wool and Wood Fusion: "Ananda" is not just a work of art; it's a testament to craftsmanship. Crafted with care and precision, it combines the tactile comfort of wool with the organic charm of wooden sticks. This fusion of materials creates a sensory experience like no other.
Handwoven Mastery: Every strand of wool and placement of the wooden sticks is a result of skilled craftsmanship. "Ananda" exemplifies the art of handweaving, where each thread is an embodiment of the weaver's dedication and passion.
Versatile Decor: Whether it graces your wall, hangs in a sunlit window, or rests at the center of your meditation space, "Ananda" adds an element of beauty that complements any setting. It adapts effortlessly to diverse interior styles, enhancing the ambiance with its unique charm.
Unique and Exclusive: "Ananda" is a truly unique piece of art. It is an exclusive creation, ensuring that you possess a work of art that is both one-of-a-kind and a reflection of the dedication to handcrafted excellence.
"Ananda" transcends the traditional understanding of handwoven mandalas. It is an embodiment of light, intricacy, and the artistic spirit. This masterpiece not only enhances your living space but invites you to contemplate the beauty of intricate design and the soothing serenity of light colors.
Bring "Ananda" into your life and watch as it weaves an enchanting tapestry of beauty and complexity. As you explore its intricacies, you'll discover a sense of tranquility and inspiration that only an art piece of this caliber can offer. Embrace "Ananda" and experience artistry at its finest.
Shipping is calculated during check out.
Same day shipping
FREE SHIPPING from
- €50 in NL
- €100 in EU
- €150 in UK
- €300 International